Webinar date and time:
Saturday 14 March 2015 10:00 GMT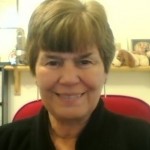 Carol Rainbow B Phil Ed (hons), Advanced TEFL Cert, 360 degree safe trainer and assessor as well as a CEOP trained e-safety teacher / trainer.
Carol lives and has taught in the UK for many years. She was an ICT Consultant for Oxfordshire LA working with teachers to make sure ICT plays a key role in enhancing pupil education in Oxfordshire schools. Currently Carol is teaching totally online for companies such as The Consultants-E. She has been using Second Life as a teaching platform for the last six years for teaching ESL and e-safety where she is part of the EU funded CAMELOT Project.