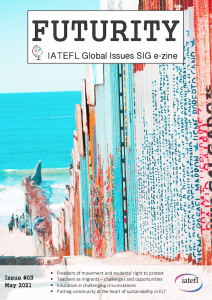 Twice a year, GISIG members receive a copy of our vibrant, informative e-magazine (or e-zine), delivered directly to their email inbox. FUTURITY is jam-packed full of articles, opinion pieces, classroom projects, lesson ideas and useful resources – all on global issues themes. We welcome contributions from both members and non-members, from teachers, materials writers, researchers, school administrative staff, English language learners and more! If you have something to say about global issues in ELT, then we'd like to hear about it.
Find our contribution guidelines here.
In particular, we are interested in hearing from and supporting first-time authors, through mentoring and proof-reading. If you have not been published before, and would like some help with ideas, organisation and/or language, then please get in touch with us, and we will assign you a personal mentor from our committee publications team to walk you through the process.
Preview previous issues of FUTURITY by clicking on the images below:
The IATEFL GISIG FUTURITY e-zine is now available to GISIG non-members for a small one-off donation to the IATEFL charity to support our work. Click here to get the latest issue!
IATEFL GISIG Member? Access over 40 issues of the archived Global Issues SIG Newsletter (1995-2020) here.