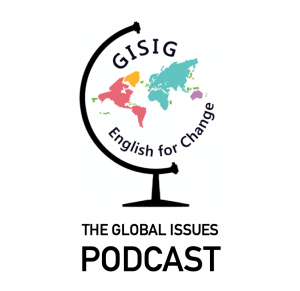 The podcast for critical educators that foregrounds global issues in English as a foreign language education. Each episode, GISIG Joint Coordinator Rose Aylett is joined by a different guest to discuss the issues affecting the lives of many teachers and learners around the world – themes so often side-lined from our coursebooks and classrooms, but that we think should be brought to our students' attention, so that they can challenge, amplify and act upon them.
To give you a taste of The Global Issues Podcast, the first full episode, as well as the first 10-minute segment of all subsequent episodes, can be downloaded for free by GISIG non-members. If you like what you hear and would like to listen to the full, extended version of the podcast, please consider becoming a GISIG member via the IATEFL website. GISIG Members can access the complete list of extended podcast episodes and accompanying show notes by clicking here.
This podcast is 100% powered by IATEFL volunteer effort. We appreciate your support by helping spread the word amongst colleagues and encouraging them to join our community of praxis. If you'd like to suggest a guest for the podcast, please get in touch.
SERIES 1 (2020)
Episode 1 – Criticality
Emma Halliday discusses what it means to be critical in ELT.
Episode 2 – Taboos
Adrian Wallwork discusses the inclusion of 'controversial' topics in our teaching materials.
Episode 3 – Racism
Harry Kuchah Kuchah unpacks racism, discrimination and unconscious bias in ELT.
Episode 4 – Extinction Rebellion
Julietta Schoenmann tells us about her ongoing teacher-activism in response to the climate emergency.
Episode 5 – Indigenous Communities
Elizabeth Bekes describes her experiences working with the Achuar in the Ecuadorian Amazon.
Episode 6 – Critical Pedagogy
Steve Brown invites us to challenge the neoliberal hegemony in ELT.