Sit down if…
When the class starts, ask students not to sit down. (If your students don't usually stand when the lesson starts, ask them to do so.) Tell them you are going to read out the statement "Sit down if…" and if the sentence is true for them, they can sit down.
Sit down if…
you came to school by bus
you came to school by train
you came to school by tram
you came to school by trolley
you came to school by bike
you walked to school
…
you came to school by car
Picture swap
Once everybody has sat down, put the first of the following pictures on the board or project it. Ask students to have a think and put any idea/thought/feeling/impression they get when they look at the picture on the board, around the photo. After they have collected a nice amount of ideas, change the picture for the second one below. Now, ask your students to relate their previous ideas to the new picture in pairs. Conduct brief open-class feedback at the end of the activity.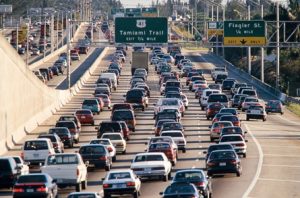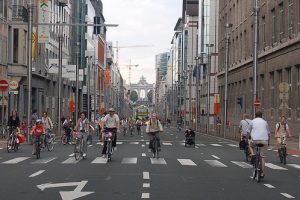 Sources: http://bit.ly/2bnBHLm and http://bit.ly/2aWeeQG
Key lexis
After getting the main theme of the lesson, tell students they are going to read about a special day in connection with the pictures, but they need to clarify some words for the text. Put students into pairs and ask them to match the following words with their synonyms or definitions.
| | |
| --- | --- |
| 1. dedicated to sg | a) take part in |
| 2. aim to do sg | b) a collection of gases in the sky that prevents harmful rays from reaching the Earth |
| 3. implement | c) traffic jam |
| 4. participate | d) made or used for a particular purpose |
| 5. congestion | e) try or intend to do sg |
| 6. ozone layer | f) take action or make changes |
Key: 1-d / 2-e / 3-f / 4-a / 5-c / 6-b
If there are some uncertainties, quickly pre-teach the problematic words so that everybody understands the items.
Note: This activity is adapted from Breaking News English. Other online activities, listening at five speeds, multi-speed readings, dictation, speaking activities and printable handouts are available for this lesson at http://www.breakingnewsenglish.com.
World Car Free Day
Hand out the text and ask students to read it and complete it with the words they have been working with. Note that in some cases, they need to change the form of the words. To check the solutions, ask a student to read it out or play the audio that is available on the BNE website.
Should you wish to share some more information on World Car Free Day, consult the following pages:
http://days.tigweb.org/world-car-free-day
https://en.wikipedia.org/wiki/Car-Free_Days
1-minute challenge
Ask the group to come up with 20 questions they would like to ask about World Car Free Day.
Reflect and share
To reflect on the theme and idea of this day, ask students to come up with some pros and cons in connection with the idea behind the initiative. You might want to switch pairs if you feel some movement would do good to the group. Conduct open-class feedback in the end and lead a whole-class discussion.
Check your chair
Collect as many questions/controversial statements/quotes about the article or the topic of travelling or sustainability as the number of group members, write them on a piece of paper and before class, stick them on the bottom of your students' chairs. When you reach this stage, tell students to check their chairs, get the slip of paper, and discuss the question with their partners. After a specific amount of time, make them swap questions with another group member. After discussion, pick some of the questions and ask the group what they have discussed.
Possible questions:
Do you think city centres should be closed to traffic?
Do you like the idea of World Car Free Day?
Some cities leave thousands of bicycles for anyone to use. Do you think it's a good idea?
Do you think you should change the way you travel around every day?
Do you think events as WCF Day have a big impact on the world?
…