Getting started
ask students about what is celebrated on the 1st of June and write down any words they can come up with associated to that day
show them the 1st picture and ask them if that's the image that comes to their mind when they think of children and what it is that they feel by looking at it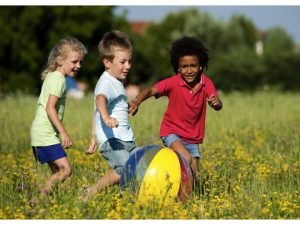 Source: http://parenteffectivenesstraining.net.au/children-playing-whats-the-big-deal/
show them the war child picture and ask them about what they feel about it, what's wrong and if these two words should ever come so close together ("war" and "child")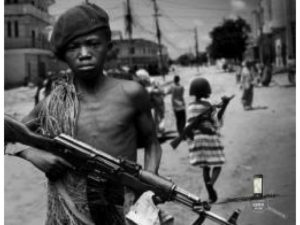 Source: https://tuesdayjustice.org/2017/02/07/child-soldiers-an-introduction/
ask Sts if they know anything about the subject, or if they can identify any countries where this situation occurs
briefly tell Sts about the war in Sudan and Emmanuel Jal (a former child soldier himself who managed to survive and, through his hip hop music, has been exposing the problem to the world and getting support in the fight against it. He now lives in Canada.)
show Sts the words in the box and tell them that they were taken from the lyrics of one of Jal's most famous hits. Make sure Sts understand all of them and ask them to say which ones are positive
       freedom                     reason            cry                   lost                     struggle
       child                     war                     tension               pain             depression
tell Sts they are going to be given an incomplete version of the song's lyrics and they are to pick the right missing word from the box (with more advanced students, you can skip the previous 2 steps and simply ask them to try and figure out what the missing words should be)
check how Sts are getting along with the task. They can work in pairs.
I believe I've survived for a 1_________________ to tell my story to touch lives (2xs) All the people struggling down there
Storms only come for a while
Then after a while they'll be gone
Blessed, blessed
I'm a 2________________ child (2xs)
I believe I've survived for a XXXXXX to tell my story to touch lives (touch lives, touch lives, touch
lives, touch lives, touch lives, touch lives, touch lives)

My father was working for the government as a policeman
Few years later I heard he joined a rebel movement that was formed to fight for 3____________________
I didn't understand the politics behind all this 'cause I was only a 4____________
After a while I saw the 5_____________ rising high between the Christian and the Muslim regime
We lost our possession
My mother, my mother's mother suffered 6_______________and because of this…
I was forced to be a war child
I'm a war child (ane ge kore, kore*) 2xs
I believe I've survived for a XXXXXXXXX to tell my story to touch lives (touch lives, touch lives, touch lives, touch lives, touch lives, touch lives, touch lives)

I 7 _____________my father in this battle
My brothers too perished in this 8___________
All my life I've been hiding in the jungle
The 9____________ I'm cutting is too much to handle
Who's there please to light up my candle
Is there anyone to hear my 10_______________.
*South Sudanese dialect, translation: 'and I'm crying, crying (lyrics by Emmanuel Jal and Clinton Outten)
Source: https://www.amnesty.org.uk/files/yhrs_lesson_2_worksheet_1_2014.pdf – please see note below
after 3-5 minutes (depending on Sts level), tell them to stop and listen to the music to check their answers (you can simply use the audio from the video: https://www.youtube.com/watch?v=VT-0NG5_fhw or create an mp3 version of it
ask Sts about their results and about the feelings that prevail in the song
ask them to guess the song title. The word "Warchild" is expected to be amongst the suggestions provided
finally, ask students to work in pairs to write another stanza (about 40-50 words) for the same song using 5 words from the box. Tell them that rhyme is not essential. (if you have longer lessons, Sts can write more stanzas). Sts' texts are to be read aloud and then collected either for an exhibition, for marking, for (later) improvement/rewriting (during the next lesson), to be part of a Children's International Day poster (depending on the T's aims).
Note: The Amnesty International website provides the most reliable transcription of the lyrics as well as a lesson plan. Due to the transcript's reliability I chose this version to create the worksheet I include here. I 1st used this song in class 6 years ago, with a variation of the lesson plan here presented which did not include the lyrics worksheet.
This lesson is one of the 4 winning entries for our Special Days Competition 2017. It was created by Cristina Oliveira. Cristina has been in TEFL (elementary to upper secondary levels) for 20 years in schools around Portugal and has worked with a wide range of students. Deeply interested in Global Issues she is always keen on promoting projects with her language students to draw awareness to these problems while boosting not only students' language skills, but, more importantly, their confidence and willingness to be active society members. She also teaches Portuguese to both native and foreign learners.