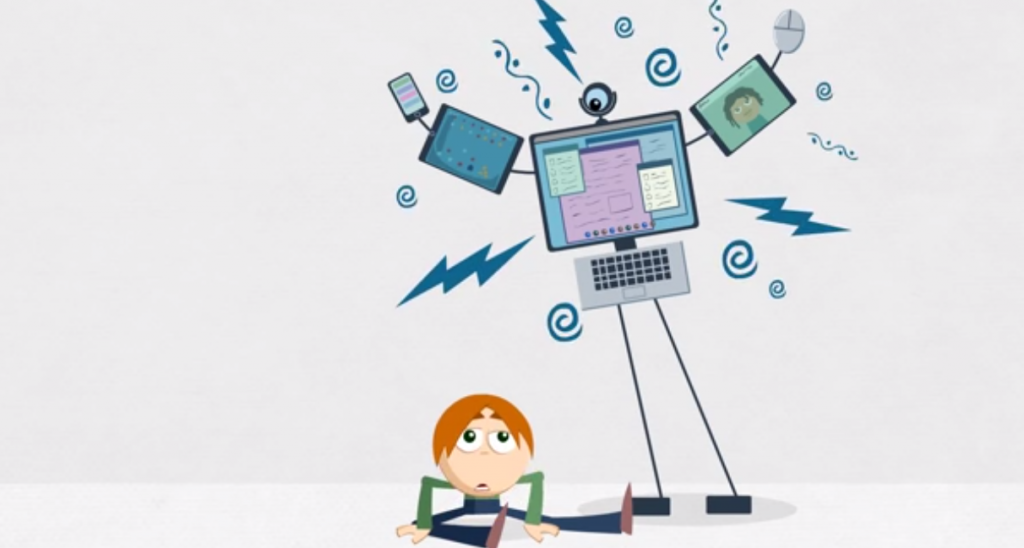 Classroom activities
Here you'll find some practical ideas for working with the clip. Choose the ones that suit your teaching aims, particular group of learners, your teaching style, and then plan your own lesson.
PRE-VIEWING ACTIVITIES
'Mystery X'
Ask your students what 'X' might stand for in the following sentence:
'X is a great servant but a dangerous master.'
Note: There is no correct solution here. It could be e.g. technology, the internet, ambition, the ego, money, power, etc.
'Change topic, change direction'
Put the following on the board: 'Topic 1: Machines    Topic 2: People' 
Do a brainstorm chain – the next student in the circle or in the row has to say a word or an expression related to the topic. There are two rules:
1. If someone calls out 'Change topic!' the one to continue needs to change over to the other topic.
2. If someone calls out 'Change direction', the chain reverses direction.
You can't change topic or direction if it's your turn to say a word.
Note: This is a high-energy brainstorming activity which usually creates a lot of laughter. Students usually enjoy the power that they can change topic or direction.
'Strangers- Acquaintances- Friends Dictation'
Tell your students that words can be divided into three categories based on how well they've mastered them:
STRANGERS:               words they come across for the first time
ACQUAINTANCES:     words they can recognise but would not be able to use confidently
FRIENDS:                     words they can use confidently in sentences of their own
Then ask them to create 3 columns on a sheet of paper with these 3 categories. You will now dictate some words and they have to write them in the appropriate column:
superficial / shallow / predator / attention / distraction / pre-historic age / compulsive / constantly / contemplation / consolidation / awesome / undivided attention / unplug / focus / information-rich environment
After the dictation, students can ask about the words in the acquaintances and strangers columns.  Then ask students to listen for these words in the clip.
Note: I first came across this categorisation of lexical items in a book by Mario Rinvolucri.
POST-VIEWING ACTIVITIES
'Four Corners'
Put up a statement in each corner of the room. A: 'I'm fully in control of when I how I use the internet.'  B: 'I often lose track of time and spend much longer on the internet than I had planned to.' C: 'The advantages of the internet far outweigh the potential dangers.' D: 'I think the internet is making us forget how to communicate face-to-face'. Ask the students to choose one of the corners, go stand there and justify their choice. This can be done in corner-groups, or as a whole-class activity with the teacher 'interviewing' some of the students.
 'Reflect & Share'
Ask your students to reflect on one of the key sentences of the clip:
'What does learning matter if all the information in the world is just a google search away?'
1. What's the difference between information and knowledge?
2. What's the difference between knowledge and wisdom?
Then ask them to share their ideas in small groups or as a whole class.
'Creative User's Manual'
Divide your students into groups of 3-4 and ask them to come up with a User's Manual for a smartphone. Their manual should be a kind of 'Dos' and 'Don'ts' list of how we can make sure that a smartphone remains our servant, rather than becoming our master.