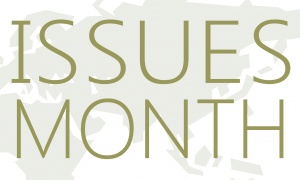 In light of the upcoming 70th anniversary of the Universal Declaration on Human Rights (December 10th 2018), we have decided to dedicate this year's Issues Month to the topic of human rights and how to incorporate them, not only into our teaching but our everyday lives as well.
Why is it important to learn about equality and human rights?
Young people need to understand equality and know their rights, to understand both how they should be treated, and how they should treat others. Teaching these topics creates a safe place for students to explore, discuss, challenge and form their own opinions and values.
The knowledge and respect of rights that students gain from this, combined with understanding, respect and tolerance for difference, can empower them to tackle prejudice, improve relationships and make the most of their lives. In our ever more diverse and challenging society, it becomes more important to instill young people with these positive and open-minded attitudes.
What are the benefits of teaching these topics?
Educating students about equality and human rights empowers your students with learning they can use far beyond the classroom – in fact they will take it out into the school corridors and playground, into their homes and beyond into the wider community. The respect and tolerance it teaches will help you and your students create a healthier, happier, fairer school culture, and could lead to reductions in bullying and other negative behavior, and improvements in attainment and aspirations.
Why is it important to adopt a whole-school approach to equality and human rights?
To reap the full benefits of equality and human rights education, it is essential to teach the topics in an environment which respects the rights and differences of both students and teachers. Without an equality and human rights culture within the classroom and school as a whole, learning about these topics can at best appear irrelevant, and at worst, hypocritical.
Let us start off by sharing the Declaration of Human rights which you and your students can read and comment on in the classroom.
Declaration of Human Rights
The Universal Declaration of Human Rights (UDHR) is a milestone document in the history of human rights. Drafted by representatives with different legal and cultural backgrounds from all regions of the world, the Declaration was proclaimed by the United Nations General Assembly in Paris on 10 December 1948 (General Assembly resolution 217 A) as a common standard of achievements for all peoples and all nations. It sets out, for the first time, fundamental human rights to be universally protected and it has been translated into over 500 languages.
Join us in contributing to an online debate, share your comments, ideas and lesson plans and let us know what you and your students are doing to make a difference!
Resources