You can discuss this event in the comments below.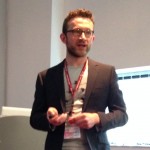 In an increasingly hypervisualized world where images circulate around the globe with ease, learners must be able to critically decode the globally relevant meanings that lie beneath the visual surface of images. In my talk, I  demonstrated how this new challenge for Global Education can be met when teachers apply a visual literacy framework infused by a global lens.
Today's world is marked by a massive global flow of images that becomes relevant for Global Education in two ways. First, images shape our view of the globalized world in that they transport global issues into the local contexts of their viewers. Second, the worldwide circulation of images, in particular facilitated by online media, has in itself become a global phenomenon that many people participate in both by consuming and by producing and sharing images. In view of these recent developments, learners need to be equipped with the right tools that help them to face these global image flows.  The teacher's challenge is therefore to apply a sensitive and critical approach to working with global images in classrooms. Taking up this challenge for Global Education, in my talk I
provided a theoretical foundation that brings together key concepts of visual literacy with current core ideas of Global Education,
put forward a hands-on catalogue of teaching ideas that support students in becoming visually literate so as to be able to critically 'read' global images and decode the various layers of meaning that are represented in such visual material,
explained how teachers can motivate students to produce their own global images and thus creatively participate in global visual discourses, e.g. via online media, and
engaged participants in discussions of exemplary visual material so as to show how working with images in Global Education classrooms can translate into stimulating practice.